5 Hip Rooftop Venues in Bogotá
by HarryPrince,  22 June 2022
by Harry Prince, 22 June 2022
Come one, come all, and discover the hippest rooftop venues in Bogotá. Great views and stunning design await.
They're special places, Rooftop venues. Naturally, they're revered in this event industry of ours, and for good reason, as you're about to see.
From party spots to classy dining experiences, we've put together a list of the best the city has to offer. Yes, whatever you're planning, we have something below your guests will absolutely adore!
So dive in, and pick your favourite before someone else books it first!
1. Classy Rooftop Space in Bogotá With Vintage Interiors and Stunning Views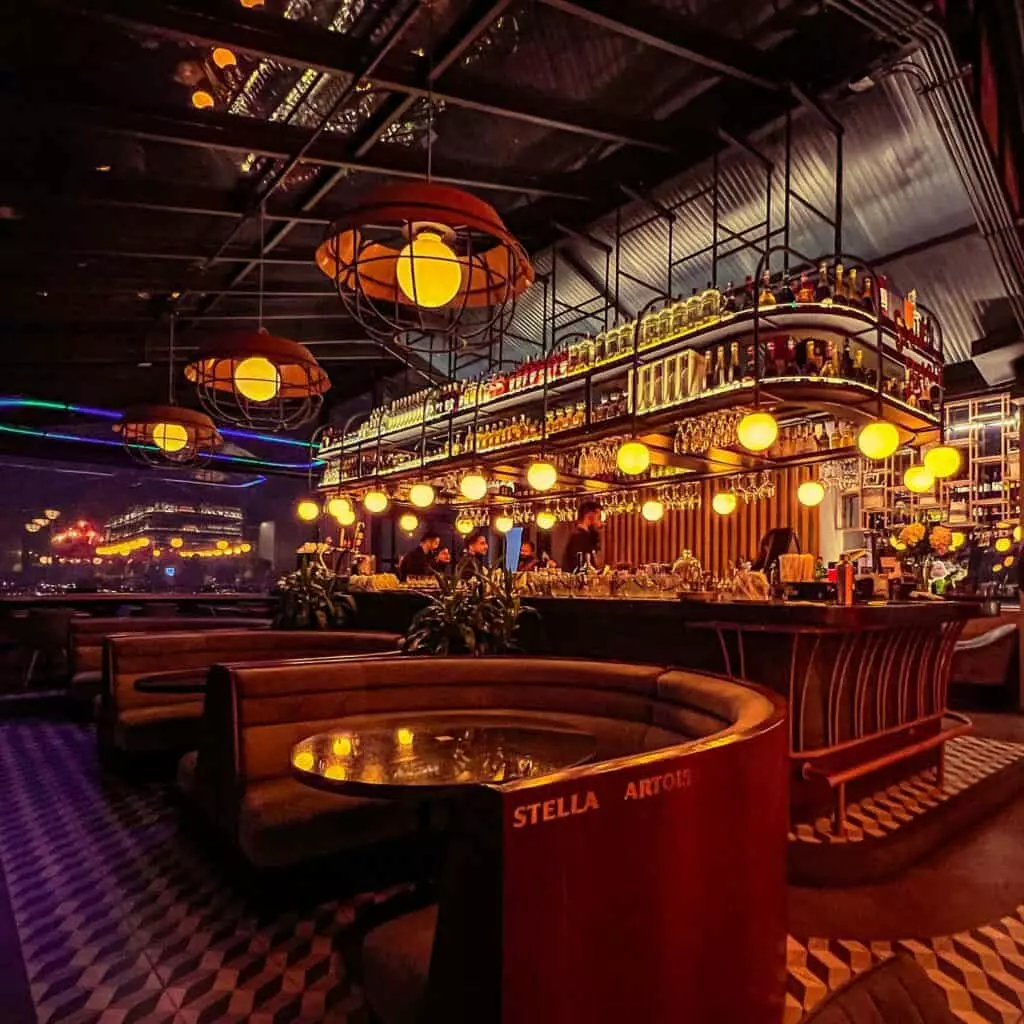 So here we go, how about this classy venue to kick off our guide to rooftops in Bogotá?
If you like places designed with a vintage style, you'll love it. Just take a look at the polished marble flooring, the elegant wooden furnishings, the nostalgic furnishings, and the brass fixtures.
It's a medley of beautiful fixtures, with an island bar as the centrepiece, and private booths as the perfect spot to enjoy the views offered by the floor-to-ceiling windows.
The glass ceiling and walls add a fascinating clash of styles against the interior. Plus, there's a stunning menu that is inspired by New York and North America, as well as an experimental range of cocktails which you won't have seen the likes of before!
2. Vibrant and Urban Rooftop in Bogotá With Natural Elements
Vibrant and Urban Rooftop in Bogotá With Natural Elements via Eventflare
Up next, we have a vibrant and urban rooftop space in Bogotá. You'll find it in the affluent El Chico neighbourhood, sporting a host of charming natural elements.
From wooden furniture with jute chairs, hand-woven bamboo pendant lamps and lots of greenery, this venue combines the magic of nature and the refinement of quality design.
There's an abundance of natural light here. Plus, the roof is retractable, making it versatile for whatever the weather throws at you. And being on the top of the 11th floor, it offers unbelievable views of the rest of the city.
And if that's not enough, there's also some outrageously tasty Mexican food on offer!
3. Dazzling Rooftop Venue in Bogotá With Glass Walls for Afterworks
This next rooftop venue in Bogotá is a great choice for those that want to throw a proper party.
You'll find this dazzling glass-walled rooftop in the buzzing neighbourhood of El Retiro. It's got various hidden spaces and mezzanines, meaning you can host an after-work event here with real depth.
It's full of curious and exotic plant life and cosy beach-style furniture, which creates a beautiful dynamic in contrast to the industrial core of the building.
And of course, thanks to the glass walls, you'll have lots of natural light and premium views. Plus, there's a first-class sound system, an extensive cocktail menu, and great bar snacks.
4. Funky Rooftop Space in Bogotá With Incredible Views
Up next, we have this funky rooftop space in Bogotá with incredible views and an electric vibe.
You'll find it in the El Chico neighbourhood, with stylish glass walls, bespoke wooden flooring, velvet furnishings, beautiful floral decorations, and premier views of the city.
Amenity-wise, you will have access to a high-speed Wi-Fi connection, and superb music equipment. And finally, there are stunning catering options too.
5. Stylish Rooftop in Bogotá With Spectacular Views
Stylish Rooftop in Bogotá With Spectacular Views via Eventflare
Alas, this is the last of our rooftop venues in Bogotá for you today. That being said, we're departing on a real treasure.
This stylish event venue is a homage to the Old West – a real taste of Americana. It's defined by rustic off-white furnishings and vintage furnishings.
It's in a great location too – just around the corner from Calle 92 train station – with remarkable views of the city.
What's more, they have a stunning burger menu – considered to be some of the best in the city – inspired by old American comic books. And finally, there's also a terrific sound system and high-speed WiFi.
Wrapping up
So there you have it, our guide to the best rooftop venues in Bogotá. We hope you've found the perfect location for your next event.
And don't forget, we have a whole load more amazing Venues in Bogotá on our platform. From conference spaces to private gardens, we have it all!
If you'd prefer another hand-picked curation, then take a look at this selection of hip exhibition venues in Bogotá.
Join the Club
Get access to the event industry's inside scoop