The 5 Best Private Dining Venues in Bogotá
by HarryPrince,  29 June 2022
by Harry Prince, 29 June 2022
One of the joys of being in the events industry in Colombia is some of the great private dining venues in Bogotá we get to go to.
It's a city that has it all. It's got a rich cultural history as well as a modern face that brings you all the contemporary joys the world has to offer. And of course, let's not forget the food here is outstanding.
To that end, it's our pleasure to bring to you a list of our favourite private dining spaces in Bogotá so you can share them with your guests.
So get reading, and see us in the conclusion for some bonus food-related event planning advice. Enjoy!
1. Raw Private Dining Space in Bogotá Built in the 1900s
So here we go, our first private dining venue for hire in Bogotá. If you're interested in historical spaces then you'll love it.
This piece of raw architectural heritage – originally a farmhouse – was built at the start of the 20th century.
The building's central courtyard and core structure remain intact and exposed, creating a raw nostalgic energy. Meanwhile, sleek contemporary furniture, skylights, and tasteful graffiti has been added, giving the place a dynamic feel.
And the food is excellent too, cooked using grills and stone ovens, and using only locally and sustainably grown food.
2. Captivating Private Dining Venue for Hire in Bogotá With Retro Vibes
Our next private dining space in Bogotá is this captivating location showcasing refined retro vibes.
The design motif here is inspired by contemporary European cafes. The result is a space that is oh so pretty. We love the suave tiled flooring, tropical trees, exposed brickwork, and magnificent skylight.
As for the cuisine, you have a menu that celebrates European classics with a notable and exciting Columbian twist. Some of our favourite items are the saffron and Wagyu oxtail risotto, steak frites with shitake mushrooms and royale potatoes, grilled puttanesca style fish, and churros with chocolate.
It also comes with a private bar, an excellent sound system, and high-speed WiFi.
3. Sophisticated Private Dining Venue in Bogotá With a Vintage Setup
For the old souls out there who love all things retro, this next private dining venue in Bogotá is for you.
Here we have a sophisticated restaurant with a charming vintage setup. From the old-school furniture to the off-white colour aesthetic and nostalgic artwork, it's a pure visual treat.
This is another venue that does both European-style dishes and Colombian classics. Plus, there's a stunning range of cocktails, a large wine room, and an exemplary selection of Scottish whisky.
And finally, what makes this place so unique is its reputation for quality live music. They're particularly famous for their brilliant lineup of blues, jazz, and old-school rock and roll.
4. Classy Private Dining Space in Bogotá With Vintage Interiors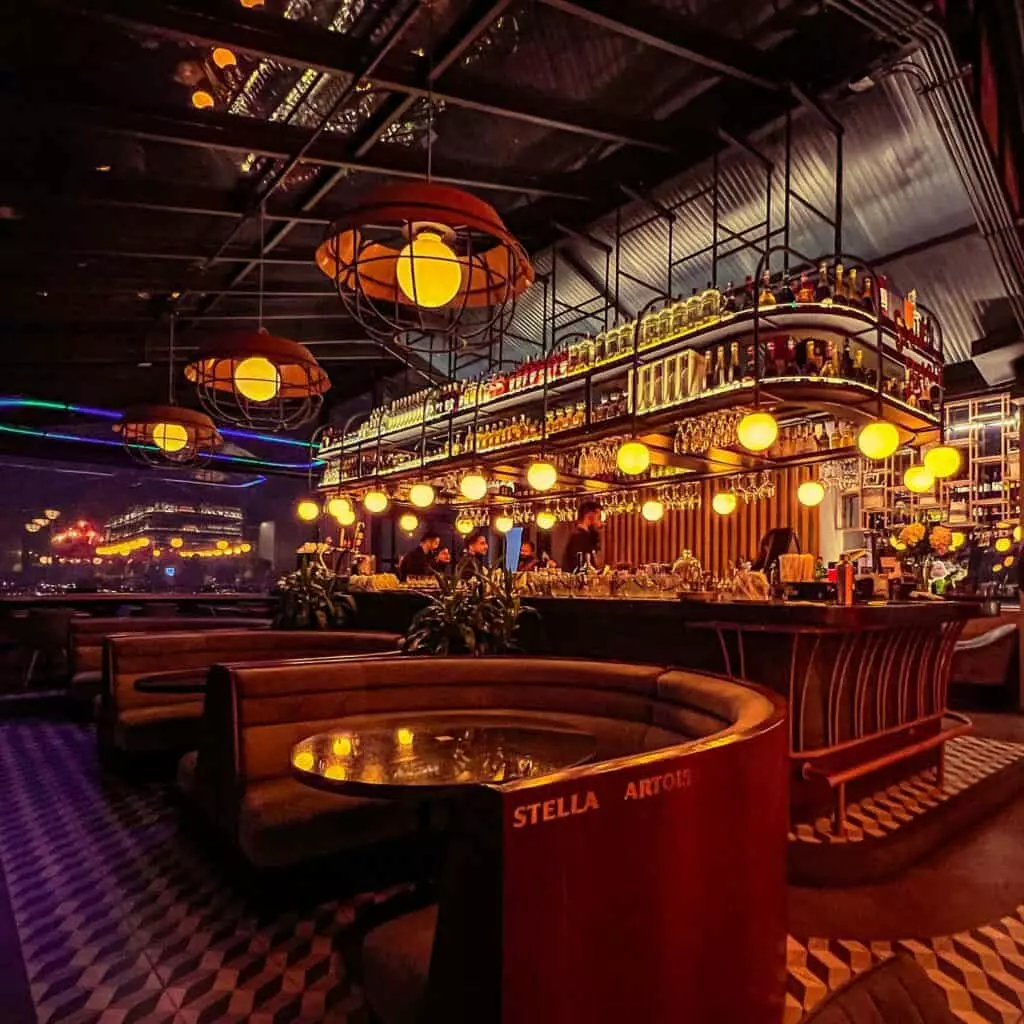 Here we have a private dining venue for hire in Bogotá that is sheer class. It's a modern rooftop space with a vintage interior, inspired by the city of New York.
There's a mesmerising marble floor, nostalgic brass fixtures, leather furniture, and a stunning wooden island bar. And to add to the complexity, it's housed in a contemporary glasshouse.
The views from this venue are sublime, and the food is even better. With a very fancy interpretation of North American cuisine, and experimental cocktails that your guests will never have seen the like of before!
5. Stylish Private Dining Venue For Hire in Bogotá With Spectacular Views
And just like that, we're at our final private dining space in Bogotá for today. And we're leaving you with a taste of the Old West.
Yes, this stylish venue is inspired by the charms of Americana. There are gentle decorative nods to saloons of old, in what is a very endearing looking venue, full of vintage trinkets.
Moreover, you'll have stunning panoramic views, and some of the most highly regarded burgers in the city, all inspired by old American comic books.
Wrapping up
And with that, we have concluded our list of the best private dining venues in Bogotá. If you're interested in other business during your visit, such as workshops, conferences, meetings, or anything else at all, then make sure to browse the rest of our amazing venues in Bogotá
And before your big event(s), you'll want to brush up on your local knowledge. For starters, check out our easy-read Colombian food guide.
Join the Club
Get access to the event industry's inside scoop