Where to Host a Business Lunch in Bogotá
by HarryPrince,  07 July 2022
by Harry Prince, 07 July 2022
If you're looking for somewhere to host a business lunch in Bogotá, then look no further, you've found the list you're looking for.
You're in for a treat too, because dining is always a treat in this city: the venues are great, and the cuisine is better.
In this list, we've put together something to accommodate all tastes. So get reading and get booking, before they're all booked up.
And make sure to read all the way to the conclusion, because we'll have some bonus food-related event planning advice. Enjoy!
1. Raw Private Dining Venue in Bogotá Built in the 1900s
Raw
So without further ado, let's dive right into our guide to business lunches in Bogotá. This first venue will certainly go down well with those who are fans of historical spaces.
This piece of raw architectural heritage – originally a farmhouse – was built way back at the start of the 20th century.
It has retained the core of its historical past. You'll see the building's central courtyard and core structure remain intact and exposed. The vintage vibes are strong, naturally.
However, it's not a museum after all. It's a contemporary dining venue in Bogotá that has been very respectfully refurbished. Your guests will love the sleek contemporary furniture, skylights, and tasteful graffiti, ensuring a subtle and modern feel.
And the food is excellent too, cooked using grills and stone ovens, and using only locally and sustainably grown food.
2. Captivating Venue for A Business Lunch in Bogotá With Retro Vibes
Up next, we have a magnificent dining venue in Bogotá, inspired by contemporary European cafes.
As you can see, this captivating location is simply stunning. From the retro tiled flooring to the conservatory-style skylight, it's full of impressive fixtures. Just take a look at the tropical trees and the exposed brickwork. And it's very clear a lot of care and detail has gone into the interior design.
There has been a lot of care going into the menu too, with a curious selection of classics that showcases a fusion of classical European and Colombian food. Some of our favourite items are the saffron and Wagyu oxtail risotto, steak frites with shitake mushrooms and royale potatoes, grilled puttanesca style fish, and churros with chocolate.
It also comes with a private bar, an excellent sound system, and high-speed Wi-Fi.
3. Sophisticated Venue With a Vintage Setup For A Business Lunch in Bogotá
Now we have something that calls out to the vintage lovers. Here we have a location that is perfect for a stylish and laidback business lunch in Bogotá.
This sophisticated restaurant is head to two in a premier retro aesthetic. From the old-school furniture to the off-white colour aesthetic and nostalgic artwork, it's a pure visual treat.
Like our previous entry, there is a varied menu that dips into both European and Colombian cuisine. And perhaps best of all – especially if we're talking about laidback lunches – there's a stunning range of cocktails, a large wine room, and an exemplary selection of Scottish whisky.
However, great interior design, food, and drinks aside, what this place is most famous for is its live music. Here you'll have an electric line of some of the best blues, jazz, and old-school rock and roll performers in the city!
4. Classy Dining Venue in Bogotá With Vintage Interiors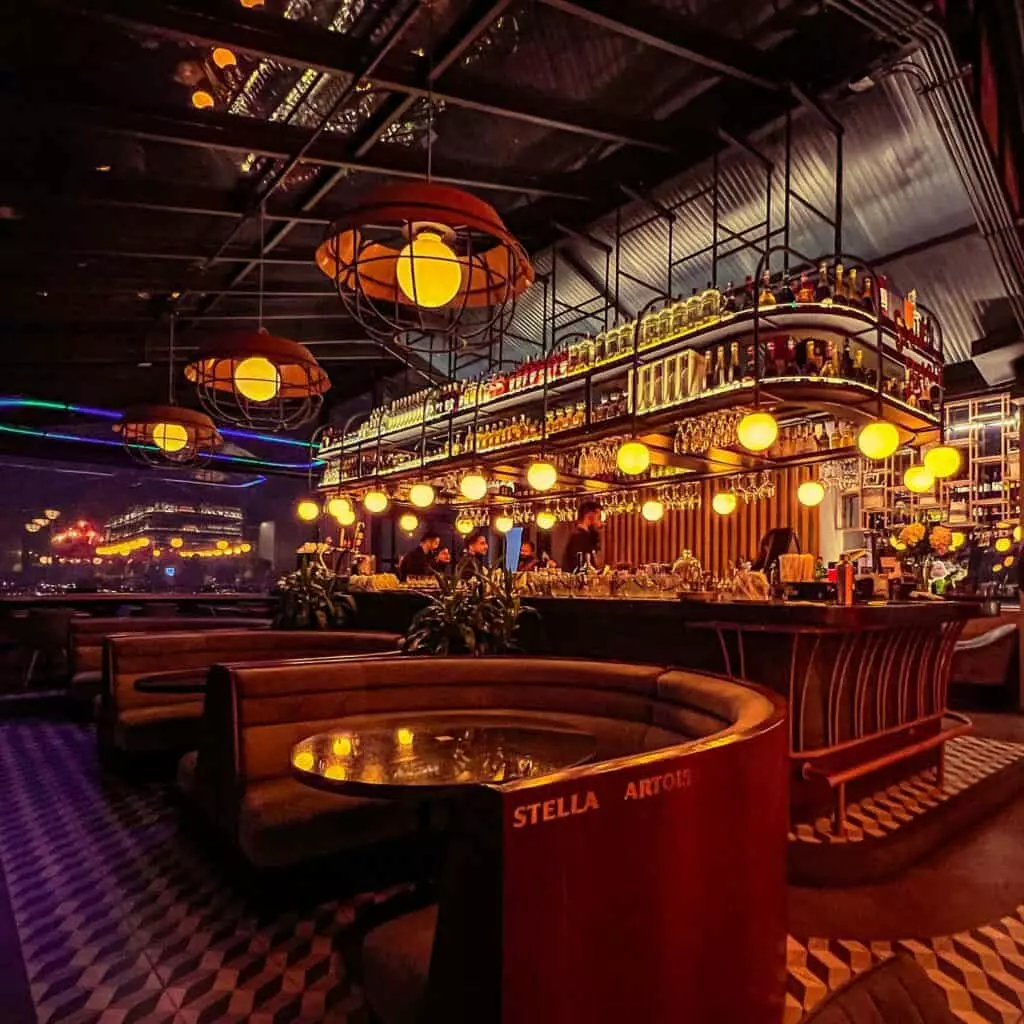 Up next we have a classy venue in Bogotá with vintage interiors. It's a modern and stylish location, modelled after the romance of old New York City.
This rooftop has premier views of the city. It's housed in a contemporary sort of glasshouse. Meaning it captures the glow of the sun by day and the light of the stars and the cityscape by night.
In contrast to the contemporary structure wherein it resides, the interior is sincerely vintage, with a mesmerising marble floor, nostalgic brass fixtures, leather furniture, and a stunning wooden island bar.
As for the cuisine, you have a haute and contemporary interpretation of North American cuisine, and experimental cocktails that your guests will never have seen the like of before!
5. Stylish Venue With Spectacular Views For Business Lunches in Bogotá
So here we are, already, at our final venue for business lunches in Bogotá. But it's certainly not a case of last but not least with this stylish venue.
What we have on our hands here is a stunning rooftop dining venue in Bogotá that has been inspired by Americana.
As you can see from the rustic off-white aesthetic, this location is a homage to the archetypal saloon of the Old West.
And as well as curious decor and trinkets, you have vintage leather furnishings and stunning panoramic views. And perhaps most importantly, they have a burger menu inspired by old American comics that are considered to be some of the best in the city!
Wrapping up
So now you know where to host a business lunch in Bogotá. We hope you've enjoyed the ride.
And don't forget, this is just a small sample of all our fantastic venues in Bogotá so go and have a good look at the rest!
But before you do that, while we're on the topic of food, check out our easy-read Colombian food guide.
Join the Club
Get access to the event industry's inside scoop