5 Unique Forum Venues in Lisbon
by HarryPrince,  18 January 2022
by Harry Prince, 18 January 2022
If you're planning a forum in Lisbon, then you've found a handy corner of the internet because you're about to read our guide to the most unique forum venues in Libson.
We love forums. They're a glorious type of event, just like conferences, but with more open discussion and participation.
That means you want a dynamic, welcoming, and vibrant space, a location that invites curious debate.
And that's what we've assembled down below. So get scrolling, and we'll see you in the conclusion.
1. Outstanding Forum Space in Lisbon With a Charming Atmosphere
Our first forum space in Lisbon is this outstanding concept venue with its charming atmosphere.
Its three unique spaces – the garden, the foundry, and the old theatre – adding up to a total of 950m2.
The building dates back to 1837 and today boasts a magical blend of historical touches and contemporary renovations.
There's art at every corner and a blank canvas motif to make this space anything you want it to be.
2. Colourful and Avant-Garde Room for a Forum in Lisbon
If you want your forum in Lisbon to make an impression on your guests, then you need to check out this colourful and Avante-Garde location.
Its most striking feature is the synthetic grass flooring. This vision of green is supplemented by contemporary art installations and an abundance of natural light from the floor to ceiling windows.
What's more, this 155m2 has a spacious and stylish open-plan lounge. Plus, there is a medley of amenities such as catering, flipcharts, sound equipment, free parking, wheelchair access, projectors, excellent WiFi, and more.
3. Unconventional and Creative Forum Venue in Lisbon
Now for something truly beautiful, an unconventional and creative forum venue in Lisbon in a central location.
The main event room has a dazzling yellow floor, a white roof in a renovated industrial style, an arched roof that rises from the floor, and nostalgic furnishings. It also has a translucent blue fishbowl meeting room. Plus, it has a cool studio lounge and cafe bar.
This location is equipped with a state-of-the-art sound system, a mixing desk, a PA, high-speed WiFi, TV screens and mics. And finally, you'll be able to host an event for up to 120 people here.
4. Eclectic and Quirky Forum Space in Lisbon
Up next, we have an eclectic and quirky forum space in Lisbon.  This centrally located venue is usually home to artists and entrepreneurs.
That's why it's perfect for a forum in Lisbon with a creative edge. At every turn, there's a delight to feast your eyes on, from the mishmash of colourful vintage furniture to the neon wall signs.
Then, of course, you have the large mezzanine that acts as a breakout space or a viewing gallery, and who couldn't admire the large windows set in historical stone.
And finally, over its 230m2, you'll be able to host a forum here with a capacity of 65.
5. Sustainable Coworking Space for a Forum in Lisbon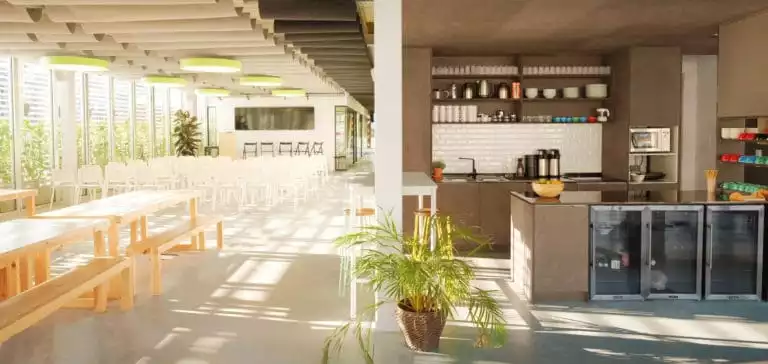 So here we are already, our final space for your forum in Lisbon. If your carbon footprint is important to you, then you'll love this sustainable coworking space with its vibrant atmosphere.
It's a venue that gloves with natural light and soothes with tropical plants and pristine minimal wooden furniture. We also love the spacious balcony and its premier riverside views. It also has a private bar and a beautiful, sustainable catering menu.
It stretches out to 80m2, allowing for up to 80 guests in a theatre capacity. And finally, you'll have music equipment, mics, flipcharts, high-speed WiFi, TV screens, whiteboards, and more.
Wrapping up
And that's a wrap, folks. We hope you've found your perfect forum venue in Lisbon today. If you've been enjoying what you've been doing, why stop the fun? How about checking out the workshop rooms in Lisbon we have on our platform?
And one final gift from us, a guide to the best restaurants in Lisbon for a business lunch. It could be the ideal place to take prospective new clients.
Join the Club
Get access to the event industry's inside scoop