7 Cool Tech Venues in Lisbon
by HarryPrince,  10 February 2022
by Harry Prince, 10 February 2022
Lisbon is making quite a name for itself in the tech world. It's fast becoming one of Europes biggest hubs for start-ups and innovation. That's why this guide to cool tech venues in Lisbon is crucial reading.
And what a great city it is for venues too. There are locations that maintain the spirit and heritage of Portuguese style, and there are contemporary locations that are sleek and carbon friendly.
In short, this article accounts for the exciting versatility of tech events, from intimate meeting sessions to showcase hackathons. So get reading and we hope you enjoy!
1. Unconventional and Creative Tech Event Venue in Lisbon 
The first of our tech event venues in Lisbon for you today is this unconventional and creative space in the trendy area of Bairro Alto.
There are four spaces here for your events, like this translucent blue fishbowl room above, a bar and cafe, an open-plan coworking space, and a spacious and stylish attic lecture space. Plus, it's an eco-friendly location with a clash of styles from industrial to retro-futurism and more.
It has everything you could need for a tech event, such as high-speed WiFI, TV screens, mics, a first-class sound system, a mixing desk, a PA system, and some superb in-house catering.
2. Colourful and Avant-Garde Tech Space in Lisbon 
Our next tech space in Lisbon is this colourful and avant-garde conference room. You'll find it in the upmarket area on the south side of the river.
What sets this venue apart is its quirky and creative motif. The standout fixture here is the bright green fake grass flooring. The location is filled with intriguing art fixtures, bound to be refreshing and inspiring for intense tech events.
Plus, this venue has a large open plan lounge brought to light by the tall glass facade. It even has an outdoor balcony too for charming views and leisurely breakout sessions.
It has every technical amenity you could need for a modern tech event. It offers great sound equipment, projectors, WiFi, and more. Other services you'll love are the lovely in-house catering service, flipcharts, whiteboards, and accessible wheelchair access.
3. Majestic Blue Cowork Space Turned Tech Venue in Lisbon 
For something a little bit different, and a little bit more intimate, you'll love this next tech venue in Libson. It's a dynamic coworking space located in the heart of the enigmatic area of Principe Real.
The style here harks back to traditional Portuguese design – as seen in the tiled flooring segments – built in a refined contemporary way. There are dazzling blues, funky chandeliers, and glamorous tiled walls. And, of course, the huge glass windows offer lots of stunning natural light.
It's great for a tech event because there are lots of computing desks, private booths, meeting rooms, lounge areas.
And finally, over it's 200m2 you'll be able to accommodate up to 80 people.
4. Sustainable Tech Event Venue in Lisbon With a Vibrant Atmosphere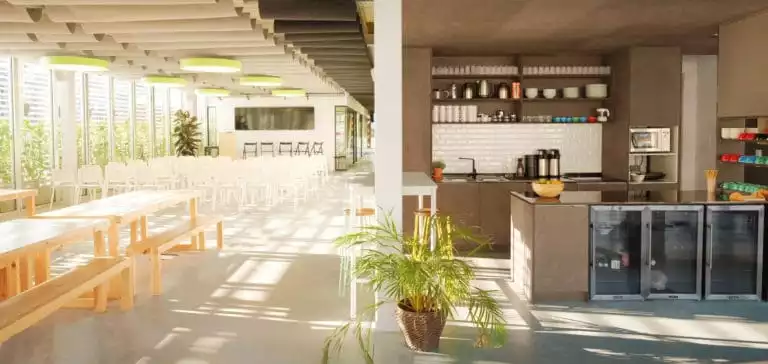 This sustainable tech event venue in Lisbon is perfect for those looking for a homely glow and to reduce their carbon footprint.
Driven by its charming atmosphere, it's a magical place to host a tech event in Lisbon. It has handsome and minimalist furniture, lots of bright light from the floor-to-ceiling windows, and lots of pretty tropical flowers.
This location also has a private bar, a kitchen, drinks amenities, and a fantastic sustainable catering service.
And, of course, it's loaded with superb tech amenities such as projectors, sound equipment, TV screens, high-speed WiFi, and more. It's spacious too, 80m2 to work with, allowing up to 120 people in a standing event and 80 people in a seated event.
5. Industrial Tech Space in Lisbon 
If you're looking for a tech space in Lisbon with a dramatic aesthetic, then take a look at this industrial work venue.
If you have an intimate and intense tech session on the cards, this is the place for you. It has a bold stripped down, and brutalist design, giving a dynamic feel thanks to the intense bursts of yellow.
Furthermore, there are generous skylights that give the place a natural glow. It also includes drinks amenities, flipcharts, sound equipment, TV screens, and high-speed WiFi. And finally, it has a total capacity of 16 people.
6. Inspiring and Quirky Tech Venue in Lisbon 
Here we have an inspiring and quirky tech venue in Lisbon with a central location.
The workspaces are decorated in a sharp and fascinating red. It also has large windows, unique lighting fixtures, tropical plants. Plus, the furniture arrangements are versatile to your design.
There is also a creative and artistic open plan lounge area with fascinating art insulation and concept furniture.
It has a total capacity of 90 people and comes with all the necessary AV equipment to host a first-rate tech event in Lisbon.
7. Eclectic and Quirky Tech Venue in Lisbon 
So here we are, the last of our tech venues in Lisbon. But don't despair. This one is a brilliant offering to go out on.
Say hello to this eclectic and quirky space for tech events. You'll find it in a glorious central location, typically home to entrepreneurs, creatives, and artists, who've made it something of a community home.
There's 230m2 to work with here, featuring an industrial-style mezzanine that works as excellent as work or meeting spaces, breakout sessions, or a viewing gallery. Plus, there's a medley of funky and colourful furniture, neon signs, and random decorative fixtures like the baby blue moped.
And finally, you'll have a total capacity of up to 130 people in a standing event and 75 people in a seated event.
Wrapping up
And that's a wrap on our guide to the fantastic tech venues in Lisbon. But remember, this is just a sample of our venues in Lisbon. So for the curious among you, get browsing!
And before you go, make sure to read up on how you can use augmented reality at meetings and events.
Join the Club
Get access to the event industry's inside scoop