Our 5 Favourite Sustainable Venues in Lisbon
by HarryPrince,  26 January 2022
by Harry Prince, 26 January 2022
The fact that you're reading this means that you take your carbon footprint seriously. We thank you and hope this guide to sustainable venues in Lisbon will be of great use to you!
You'll be happy to know that we're experts at sourcing the best venues possible for corporate events.
And you'll be happier still to know that our favourite eco-friendly spaces in Lisbon are by no means lacking in quality or charm compared to any other venues.
This guide has something for every type of event you have planned, with something for everyone. That's right, every size and every style. Now get reading and enjoy!
1. Eco-Friendly Venue in Lisbon With Tons of Natural Light
Today, our first eco-friendly venue in Lisbon is this sustainable boardroom with tons of natural light. Its standout feature is the beautiful balcony with riverfront views.
You'll find it in São Vicente, next to Santa Apolónia, Lisbons central station. The furniture is sourced from accessible material. What's more, the drinks and snacks are all ethically and environmentally sourced too.
Amenity-wise, you'll have an excellent WiFi connection, a TV with chrome cast, a motion sensor camera, a mic, and a whiteboard. And finally, you'll have a total capacity of 12 people.
2. Eco-Friendly Space in Lisbon With a Vibrant Atmosphere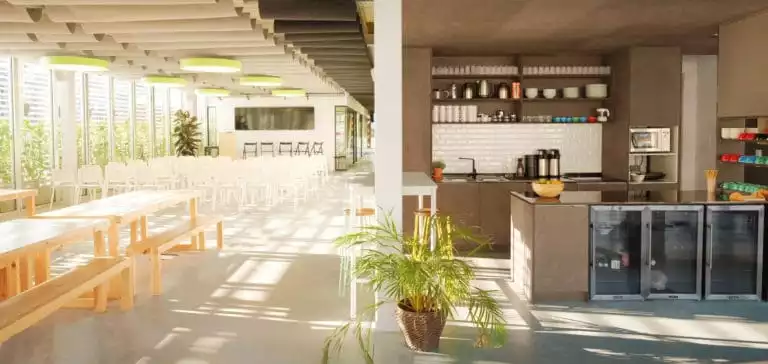 Our next eco-friendly space in Lisbon is this sustainable coworking space with its vibrant atmosphere. This venue is fitted and filled with recycled materials, with a sustainable catering service.
As well as being an excellent auditorium space, it's a sociable location, with its large open plan lounge, a cafe, a dining area, and it has a spacious balcony with stunning views of the River Tagus. What's more, It's beaming with natural light has lots of tropical plants.
Capacity-wise, you'll be able to host 120 people in a standing event and 80 people in a seated event. And finally, it comes with an excellent Wi-Fi connection, a projector, a sound system, mics, and flipcharts.
3. Outstanding Sustainable Venue In With a View Over the River Tagus
Out next sustainable venue in Lisbon is a brilliant example of recycling material in construction.
This outstanding event space is built from old shipping containers. It's been cleverly encased in glass and filled with recycled wooden material. It's not only eco-friendly, but it's stylish too, with lots of contemporary art on the walls. What's more, it's got glorious views of the River Tagus and the 25 de Abril Bridge.
It has a private bar and fabulous food that focuses on local and sustainable ingredients. There's a great music system too.
4. Incredible Eco-Friendly Venue in Lisbon on the Beach
Up next, we have an incredible eco-friendly venue in Lisbon that is right on the beach.
It's a stripped-back wooden motif of light seaside colours. The scenic beachside landscape is the star of the show here. There is minimal energy usage here, making it very eco-friendly for hosting events.
It's a blank canvas venue with customisable decorations to suit your theme. Plus, they have an inventive catering service that emphasises locally sourced and sustainable ingredients.
5. Unconventional and Creative Eco-Friendly Space in Lisbon
Unconventional and Creative Eco-Friendly Space in Lisbon via Eventflare
So here we are at our final eco-friendly space in Lisbon today, and it's undoubtedly last but not least.
Say hello to this unconventional and creating meeting space in Lisbon. It's a coworking and event space that is driven by biodiversity. This collective has chosen a disused old factory space for their home, for starters. Then, they turned their attic coworking space into a hybrid greenhouse space.
Plus, there's a bar and cafe on site that focuses on sustainable produce. And, of course, they have great spaces like this translucent blue fishbowl meeting room to explore.
Capacity-wise, you'll be able to accommodate up to 120 people here for any kind of event you like. You'll also have top-of-the-range amenities such as a great sound system, a mixing desk, a PA system, TV screens, excellent WiFi, and mics.
Wrapping up
So there you have it, our favourite sustainable venues in Lisbon. We hope you've found what you're looking for. But just remember, this is just a sample of our venues in Lisbon. To see much more, follow the link!
And before you go, here is some essential reading to go with the eco-friendly venues in Lisbon above: our guide on how to host an eco-friendly event.
Join the Club
Get access to the event industry's inside scoop