The 7 Best Private Dining Spaces in Lisbon
by HarryPrince,  07 December 2021
by Harry Prince, 07 December 2021
All foodies know that Portugal and Lisbon are top of the wish list when travelling. And any food documentarian worth their salt has made sure to film in Lisbon.
That's why we're so delighted to present this guide to the best private dining spaces in Lisbon. The team that dines together bonds together after all.
There are venues of every size and style to suit any occasion you have planned for your team. All you have to do is sit back, relax, and choose!
1. Glamorous Rooftop Private Dining Venue in Lisbon
We're kicking off this guide with something rather striking. It's a glamorous rooftop, perfect for elegant private dining in Lisbon.
It's a first-class location, right on the waterfront. You'll have stunning panoramic views of the River Tagus and the 25th de Abril Bridge.
The venue is pristine and minimalist. What's more, it's a blank canvas venue. Meaning you can have their fancy table settings arranged how you like them.
Plus, you'll have sound equipment and excellent WiFi. And finally, you'll have a maximum private dining capacity of 240 people.
2. Contemporary and Timeless Private Dining Space in Lisbon
Up next, we have a contemporary and timeless private dining space in Lisbon, located right in the heart of the city. The floor-to-ceiling windows will open your guests up to pleasant views to see it all.
What we have here is a fabulous example of contemporary architecture. Therein it is beautifully laden with timeless interior design pieces, from the vintage Turkish rugs to the velvet upholstered sofas and wooden tavern-style chairs.
It's a slender looking place, with a decidedly cosmopolitan ambience, finished with subtle modern artwork on the walls.
What's more, you'll have a private bar and super fast WiFi. Capacity-wise, you'll have a total capacity of 40 people for a private dining event.
3. Bohemian Private Dining Venue For Hire in Lisbon With Panoramic View
If you think your team would prefer something more rustic, then we have this bohemian private dining venue for hire in Lisbon. It's located in the centre of the city, in the heart of Principe Real, showcasing stunning views of Lisbon.
This garden is inspired by Indian culture. You'll see a mix of colours, textures, patterns, and music coming together to create a unique atmosphere. The furniture is lounging and vintage in nature. And to complete the scene, you'll be in amongst some beautiful trees.
Your guests here will have the joy of food and cocktails with an Eastern and Mediterranean influence. All in all, you'll be able to host up to 40 people here for a private dining event.
4. Charming Private Dining Venue in Lisbon by the Beach
How about something completely different? We all love going to the beach. So why not take your team?
This charming private dining venue in Lisbon will allow you to do exactly that. It's right on the beach – a dreamy white space made of wood and cotton fabric. It stretches out over 300m2 and has a healthy mix of seated tables and lounge sofas.
This venue is nostalgic to its core, recalling the spirit of the beach in the mid-20th-century. It basks in the sun in the day with its large white parasol covering, and in the evening, it glows with beautiful lighting arrangements.
5. Outstanding Private Dining Space in Lisbon With a View of the River Tagus
Back in the city, we have this outstanding private dining space in Lisbon.
If you like the combination of old and new, this is the place for you. The old is the shipping containers that form the venue's core. The new is the contemporary glass which encloses it and the furniture and fixtures which lie therein.
It's filled with art and sports gorgeous wooden flooring, skylights, and bespoke furniture. What's more, it has floor-to-ceiling windows that offer panoramic views of the River Tagus and the city.
You'll also have a private bar, an eco-friendly catering service, music equipment, and attentive staff.
6. Colourful and Authentic Private Dining Venue For Hire in Lisbon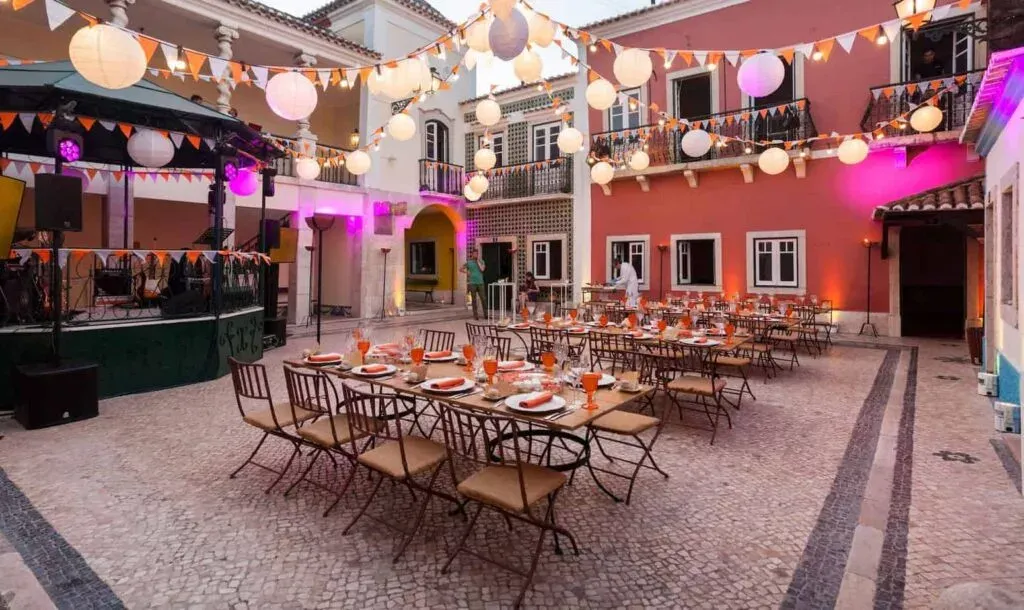 If you're looking for something historical, we have this colourful and authentic private dining venue for hire in Lisbon.
It's a courtyard with truly beautiful Azulejo tiled flooring. The surrounding building facades have a folklorish quality and are the perfect backdrop for extraordinary private dining experiences.
The space is completely versatile in its arrangement, with the option of a nostalgic bandstand and lively party decorations. It also has an optional all-weather see-through roof if necessary, so you don't inhibit the view of the charming facades.
As well as a terrific traditional catering service, you'll also have all the necessary AV equipment for a proper party.
7. Stunning Private Dining Venue in Lisbon With a Modern and Fresh Style
Our final private dining venue in Lisbon is this stunning location with its modern and fresh style.
You'll find it located in a 19th-century building, which has been refurbished to the sleek wonder you see today. From the wall of wine to the bespoke leather furniture, it's a vision of sheer class.
However, the signature calling card of his venue is its stunning terrace, which is just outside the glass partitions. You'll be able to look out over the city and the tree-topped hills in between courses.
The wine and cuisine is a celebration of Portugal. You'll also have a state-of-the-art sound system. All in all, it's an enviable location, intimate too, with a maximum capacity of 15 people.
Wrapping up
Well, there you have it, the best private dining spaces in Lisbon. We hope you've seen the perfect place for you and yours. If not, just follow this link to see more of our private dining rooms in Lisbon.
And before you go, why not check out our favourite hotels in Lisbon. It could be the cherry on the cake that is your visit!
Join the Club
Get access to the event industry's inside scoop