10 Fun Ideas For Team Building Activities in Milan
by HarryPrince,  08 November 2021
by Harry Prince, 08 November 2021
So here you are. You've found what you've been looking for – a concise guide to the most fun team building activities in Milan.
Team building might be a generic corporate buzzword. But if done right, it is a meaningful and glorious pursuit.
This guide to fun team building activities in Milan reflects distinctly the Italian Milanese experience you can't get anywhere else. It also offers a broader genre of fun too. Don't worry. We've been versatile!
Most importantly, whatever your desired team-building outcomes are, we've got the activities below to achieve them! Don't forget. You don't have to choose just one. Enjoy!
1. Oltrepo Pavese Wine Tour 
If there is one thing that our Italian friends know about, it's making gorgeous wine. And who doesn't love the odd glass every now and again?
Oltrepo Pavese Wine Tour is a wonderful excuse to get out of the city and see some of the marvellous rolling hills of Northern Italy.
This idyllic chateau is a gorgeous place to learn how wine is made, the history of the vineyard and the region, and of course, to try some out.
It's a 5-hour experience, with a lovely lunch, and best of all, it's your chance to taste the delicious sparkling Pinot Noir which is exclusive to this region!
2. The Go Game 
If you want your team building activity in Milan to be fully customised, then speak to the people at The Go Game.
It's a fantastic service where they can build anything you can dream of, from a unique gamification experience, 500-person music videos in '80s costumes, lawn games on a boat, or a classic scavenger hunt.
It's a simple concept. You tell them what you want, and their team hammers away at it. It's then sent to you for edits, personal input, and then confirmation. Then it's game time!
3. Cook in Milano
Milan is the city that made risotto famous. So if that isn't culinary credentials, then what is?
Cook in Milano is a great experience to learn authentic Italian cuisine. Especially the pasta course.
This course can accommodate a maximum of 6 people, making it more hands-on and more one-on-one face time for maximum learning, where the best thing is the homely atmosphere.
What's more, the teaching is certified, there is professional wine tasting with a sommelier, market tours, a diploma, completed printed recipes to take away, 100% fluency in English teaching, and of course, you get to eat everything you make!
4. AnotheReality 
AnotheReality is a studio that specialises in immersive solutions in virtual reality, augmented reality and extended realities (mixed reality). They're based in Milan. So you can go to them, or they can bring their expertise and tech to you while you're there.
Their elaborate and innovative solutions are for training, business, entertainment and creative projects. So in practical terms, that could be anything you desire, from fun videogames to techniques to engage virtual and hybrid attendees of your corporate events.
There are solutions to satisfy any team building outcome you could want, whether it's training purposes, such as technical or soft skill simulation, or thrilling custom game design to treat your team, Or just for a singular experience such as their travel and heritage solutions which can simulate safaris or museums from the comfort of your office.
5. Gorgonzola Cheese Tour and Tasting 
This next one might be a bit of an acquired taste. Some cheeses are stronger than others. But if your team like cheese with strong smells and blue marbling, then this is the perfect team building for you!
At Gorgonzola Cheese Tour and Tasting, you'll get a tour around the factory, visit historical places of the Serbelloni family in Gorgonzola, as well as a comprehensive tasting experience paired with some stunning Northern Italian wines.
It's an English speaking tour, with a round trip transfer just 40 minutes from Milan, and to cap it all off, you'll be given a certificate of attendance at the end.
6. Trap Milano 
So if you like escape rooms, but feel they're not hard enough, then give Trap Milano a try.
Their rooms are diverse, with themes such as The Tomb, The House in the Woods, Antarctica, Pirate Cave, The Mayan Temple, The Winter Tale. The sets are mesmerising!
You're given just 60 minutes to work together to beat the challenge. It's a test of teamwork, creativity, logic, observation, and that mysterious quality known as intuition.
7. Rozzano Big Kart
Italy is a country with a strong heritage in the world of engineering and motorsport. From the iconic red Ferrari to the Lambourgini's of Lombardy.
If your team enjoy chasing adrenaline, go-karting is always a solid team-building activity option. Competitiveness lies in all of us, and if it won't come out at a race track, when will it?
Rozzano Big Kart is an institution of the area, with almost 30 years of racing excellence under its belt. You can book a simple drop-in for fun lap sessions, or you can book a full Grand Prix experience on their state of the art karts or their mini-motorbikes.
Your experience is complete with charming catering and bar services to unwind after a major thrill!
8. Mini Golf Adventure 
The great thing about mini-golf for team building is that it's so accessible. Even if you've never played before, you can get the hang of it instantaneously.
What we like about Mini Golf Adventure is that it has pristine green turf, gorgeous stone patios, and luscious palm trees. It just looks very friendly.
And what we like even more are their freshly baked pizzas from the wood-fired oven, fabulous meat grill, and large garden reception area.
9. Lucky Star Disco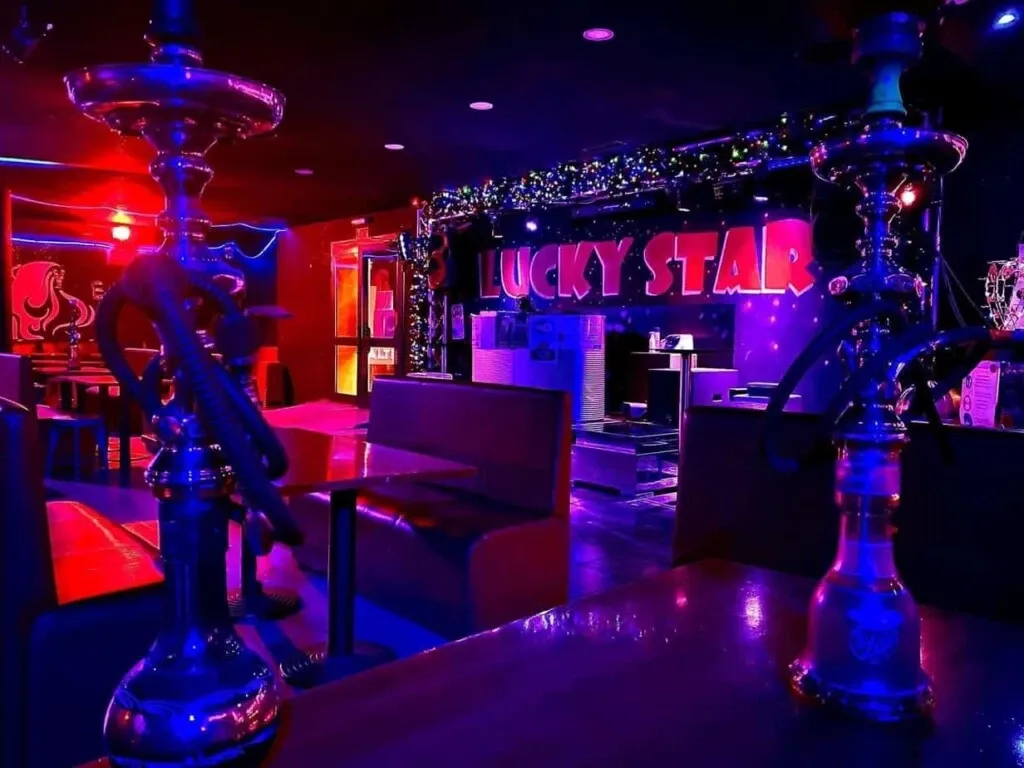 You don't have to sing on key to enjoy karaoke. And thank God for that! Nothing brings a team together than belting out familiar pop favourites.
Having a couple of drinks while you do it doesn't hurt either. And at Lucky Star Disco you'll be well looked after in that department. They have an extensive international beer menu with delights from Scotland to South America and a whole load of cocktails. They even have ice creams and slush puppies for those that know how to treat themselves.
The decor is unpretentious and is decked out in full party mode. And at the end of the day, it's a bar that's famed for its welcoming and accessible atmosphere. So get them called and make a booking now!
10. Ceramica Baldanza
So here we are, our last team-building activity in Milan. And it's a peach: Ceramica Baldanza.
It's a private ceramic clay workshop that can be a one-time occasion or dedicated course lasting eight lessons. Livia's studio is a bright, homely, and comfortable space to learn a very charming craft.
Her speciality and her teaching are focused on functional objects, which are handcrafted and hand-painted. They are great for decoration, restaurants, or whatever you please.
Wrapping up 
And that's a wrap on our guide to fun team building activities in Milan. We hope you've found what you're looking for. Don't forget. You're not restricted to one. You can try them all out if you like!
If you need workshop rooms in Milan to host your chosen team building idea, then our collection covers every size and style of venue you could hope for, so check them out!
And our final bit of advice is this guide to the best areas in Milan for Hosting events. It's full of venue tips, transports advice, and the lowdown on the best places to eat and visit.
Join the Club
Get access to the event industry's inside scoop