Top Tips for Hosting a Business Event in Paris
by Akshayaa RaniM,  29 August 2023
by Akshayaa Rani M, 29 August 2023
Salut, event planner friends! Word on the street is that you're planning to host a business event in Paris, and we're here to make sure that everything about your event is as smooth as French butter.
We've got some cool insider information and top tips that every event planner should know to plan a business event in Paris that leaves a lasting impression.
Whether you're a seasoned event maestro or a newbie to the world of events, we're sure that you'll find these tips helpful. Now, we've got a lot to cover, so without further ado, let's get started!
1. Learn Parisian Business Etiquette to Host a Successful Event in Paris
Our first tip for events in Paris is to behave like the Parisians do, at least when it comes to business. It's important to maintain a sense of decorum and respect for your host city, so it helps to know these little tips that'll help set you apart as an unforgettable event host.
Be punctual: Similar to most European cities, Parisians value punctuality, so ensure your event starts as scheduled and you arrive at business meetings ahead of time. In the case of any unforeseen delays, make sure you keep your attendees informed
Dress to impress: This is unsurprising since the French are known for their sense of style. You'll create an impression if you dress professionally for events and meetings, but this doesn't mean you have to go over the top. Minimalism is the key here, so opt for neutral tones and well-fitted attire.
Handshakes and Greetings: Formal titles are appreciated and used in Paris. Use "Monsieur" for men and "Madame" for women. As for handshakes, you may have heard of the famous French "air kiss", but this is best avoided in business settings and with people you don't know. Instead, opt for a firm handshake.
Business cards: It's normal to exchange business cards at business events in Paris. You can exchange your cards at the beginning or end of your conversation.
Respect personal space: Parisians value personal space. Maintain an arm's length distance during conversations.
2. Tips for Events in Paris: Hire Top-Notch Catering
No event planning advice in Paris will leave out event catering. That's because the French take their food very seriously. But not to worry, we've got advice that'll impress even the most discerning palette.
Food in Paris is a rich tapestry of flavours and cuisines, and finding the perfect event caterer can give your attendees an unforgettable culinary experience. Here are some event caterers you can check out.
Le Festin Parisien: When in Paris, eat like the French and Le Festin Parisien lets you do just that with its extensive menu that captures the essence of modern French cuisine by infusing traditional flavours with a contemporary twist. Some of their signature dishes include Escargot de Bourgogne, Coq au Vin, and Crème Brûlée.
Soleil Catering:For a more relaxed culinary experience, we recommend Soleil Catering. This catering company specialises in Provençal-inspired cooking, and their event catering menu can transport the attendees to your business event in Paris to the sun-soaked Mediterranean coast. From Ratatouille to Bouillabaisse and the delectable Tarte Tropézienne, their menu is a tribute to the vibrant flavours of Southern France.
Savoir Flair: This catering company seamlessly blends French culinary techniques with international influences. Expect innovative offerings like Foie Gras Sushi, Beef Bourguignon Tacos, and Macaron Towers that redefine event catering.
Épicurien Extravagance: As the name suggests, this event catering company brings the ultimate luxury dining experience to business events in Paris. They're known for using seasonal ingredients to craft exquisite dishes. From Lobster Bisque to Wagyu Beef Medallions and the refreshing Champagne Sorbet, their creations are sure to impress your event attendees.
La Touche Sucrée: Speaking of impressing guests, how about adding a dessert table to your business event in Paris? La Touche Sucrée excels in crafting elegant dessert displays and sweet creations. From the indulgent Crepes Suzette to the delicate Mille-Feuille and intricate Fruit Sculptures, their artistic confections are a feast for the eyes and the palette.
Fromage & Baguette Catering:There's nothing quite quintessentially Parisian like cheese and bread. That's exactly what you'll get from Fromage & Baguette catering. They specialise in creating authentic cheese and charcuterie platters. You can choose from an assortment of cheese boards, charcuterie cones, and crusty baguettes to give your event attendees the ultimate grazing experience.
3. Advice for Business Events in Paris: After-Work Ideas
With these tips for your event in Berlin, we're pretty sure your guests will be impressed but if you really want to take things to the next level, you've got to help your guests unwind too. Luckily, Paris has plenty of options for that.
Here are some offbeat after-work ideas in Paris that'll add a touch of sophistication, culture, and relaxation to your business event.
Wine Tasting on the River Seine:There's something about French wine, isn't there? Gather your event attendees set sail on a private yacht along the Seine River, and indulge in a curated wine-tasting experience. Sample exquisite French wines while taking in iconic landmarks like the Eiffel Tower and Notre Dame Cathedral. A sommelier on board will guide you through a journey of flavours, making it an unforgettable evening of relaxation and refined enjoyment.
Culinary Masterclass: Food is always a bonding experience, especially when you make it yourself. Let your team channel their inner chefs as they participate in a hands-on culinary masterclass. Learn the art of crafting delicate pastries, perfecting the classic macaron, or mastering the techniques of gourmet French cuisine. Afterwards, enjoy the fruits of your labour in a cosy dining setting.
Fashion and Style Mixer: Apart from winning and dining, the French are known for their impeccable style and sense of fashion too. Embrace the city's fashion-forward reputation by organising a fashion and style mixer. Invite local designers to showcase their collections while your guests enjoy a fashion show over cocktails. It's a chic and entertaining way to network, unwind, and appreciate Parisian elegance.
Cultural Discovery Hunt: Turn your after-work event into an interactive adventure by organising a cultural discovery hunt. Teams can explore hidden gems, solve puzzles, and unlock the city's secrets while learning about its history and culture - a playful and engaging way to bond and discover Paris from a fresh perspective.
A Rooftop Party: Parties are a common after-work event, but make yours extra memorable by hosting it on a rooftop. Enjoy panoramic views of Paris as you indulge in exquisite canapés, fine wines, and craft cocktails. The combination of stunning scenery and delectable flavours will leave your guests talking about the experience for years to come.
Pro-tip: Swap up the party for one of these fun team-building activities in Paris.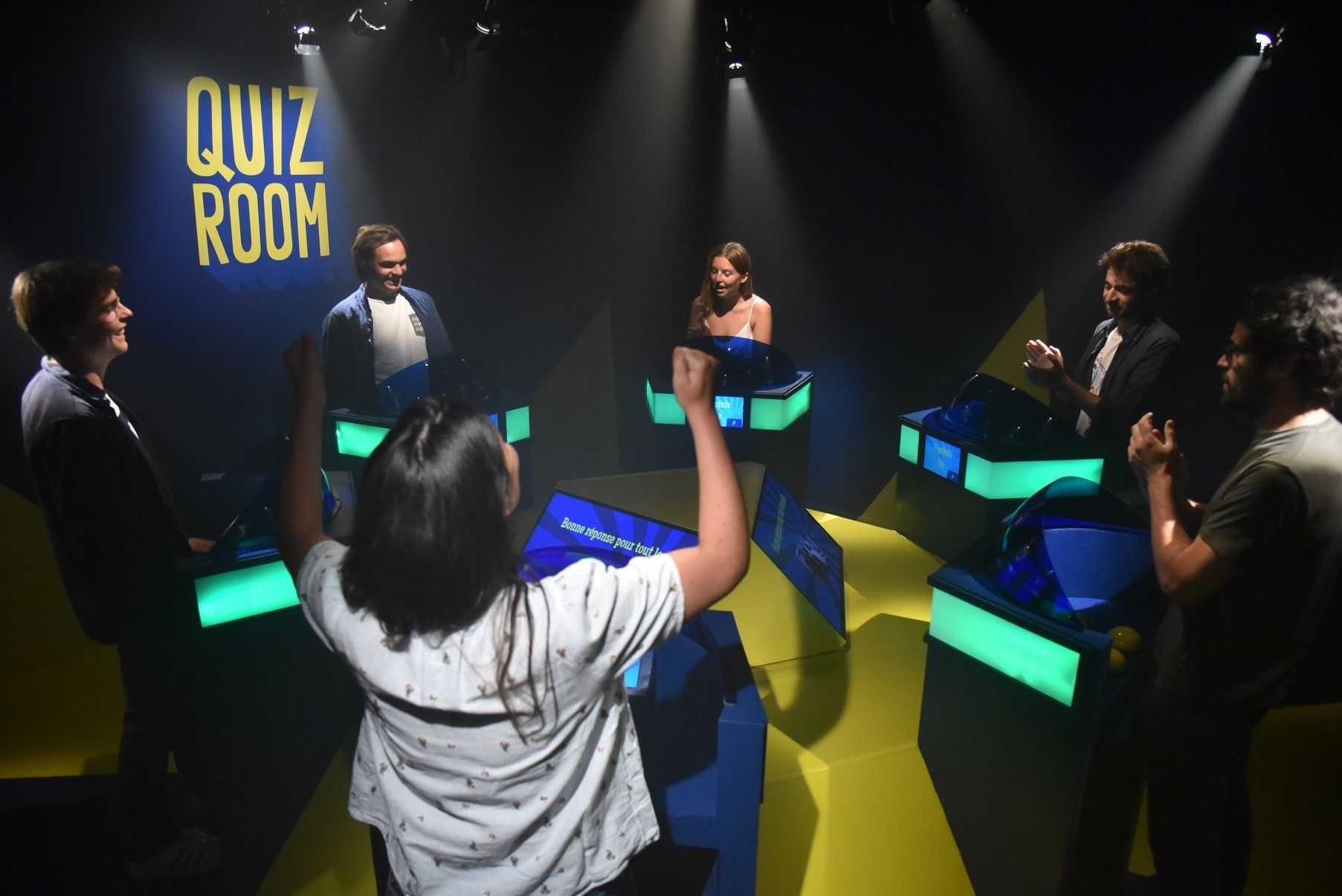 4. Event Advice Paris: Stage Design and Decor
No event planning advice Paris guide will be complete if we don't talk about stage design and decor. This plays an essential role in shaping not only the ambience but also the narrative and overall impact of any occasion.
For business events in Paris, you'll want a stage that showcases your organisation, brand, or the theme of your event. You can do this with interesting backdrops with your company or event branding.
Don't forget to think about furniture, decor, and audiovisual enhancements when you think about the stage design and decor for your business event in Paris. It's helpful to create a mood board of what you'd like your event to look like. This will help professional event stage designers understand what you want and help them bring your creative vision to life.
Here's a list of some excellent event stage designers in Paris.
Studio French Blue:If you're looking for a bespoke event design that's inspired by French aesthetics, Studio French Blue might be perfect for your event. They offer personalised stage design services that will give your event a true Parisian feel. Their style aesthetic includes elements such as luxurious fabrics, ornate chandeliers, and vintage Parisian touches.
Le Grand Eclair:If you'd like something a little more professional, Le Grand Eclair offers a unique approach to event design by incorporating artistic and multimedia elements. They specialise in creating innovative and immersive stage designs that combine modernity with Parisian charm.
Lumière Productions: Stage design is not just about backdrops and Lumière Productions understands that. They also offer innovative lighting and audiovisual solutions to enhance your stage design. Their team can create dynamic lighting effects that highlight key elements of your decor.
Fleuriste Paris Fleurs: Expert florists who can design and create stunning floral arrangements for your event stage. Their designs evoke the beauty of Parisian gardens and can add a touch of natural elegance to your stage decor.
Paris Prop Shop:Last but not least, we have Paris Prop Shop, which provides an array of event props and decor rentals inspired by Parisian aesthetics. From iconic landmarks to vintage furniture pieces, they can supply the elements needed to bring your Paris-themed stage design to life.
Pro-tip: Stage design and decor can help you make your event look amazing but if you've got a fabulous event venue, your job is already half done! Check out these modern event venues in Paris that will help you create a remarkable vibe for your business event.
5. Entertainment Ideas to Plan a Business Event in Paris
To host a successful event in Paris, you need to ensure that your business event is not all work and no play. Here are some cool entertainment ideas to help you balance the work and the play at your event.
Live Jazz Entertainment:Paris is a city of sophistication, and there's nothing quite as sophisticated as jazz. Treat your event attendees to a live jazz performance complete with plush seating, dim lighting, and a talented jazz ensemble that serenades attendees with soulful melodies.
Host an After-Work Cocktail Party:The Parisians take their wines very seriously and your business event in Paris could be the perfect time to showcase a variety of Parisian wines. Host a small cocktail reception at your business event in Paris to give your event attendees a chance to network while sampling wines.
Fashion Showcase: If there's anything else the French love as much as their wine, it's fashion. Celebrate Paris's reputation as a fashion capital by organizing a fashion show featuring local designers. Showcasing chic apparel and accessories against the backdrop of Parisian elegance adds a touch of glamour and cultural immersion.
Parisian Photo Booth:Create a photo booth inspired by iconic Parisian landmarks. Attendees can pose with props like berets, baguettes, and Eiffel Tower replicas, capturing fun and memorable moments and giving them a souvenir of their time in Paris.
6. Understanding the Local Culture for Events in Paris
We've already touched upon the business etiquette to plan a business event in Paris but knowing the local culture can also help you out in the long run, especially when you're co-ordinating with vendors or event staff.
Now, you don't have to fully immerse yourself in French culture or become an honorary Parisian but here's some helpful advice on the local culture to help you navigate the world of events in Paris.
Learn some basic French:English is widely spoken in Paris but to get things done faster, it's helpful to learn a few basic French words such as "Bonjour" or "Bonsoir" to greet your participants or even "S'il Vous Plaît" to politely say please.
Dress well:Parisians are known for their impeccable style, so dressing professionally and elegantly is essential. Aim for well-fitted clothing that reflects both your personal flair and the formality of the event.
Master the Art of Conversation: Engaging in conversation is an art form in Paris. Ask about their interests, culture, and opinions. Show genuine interest, avoid interrupting, and allow conversations to flow organically.
Wrapping Up
We've now reached the end of our helpful guide of top tips for hosting a business event in Paris, but before we bid youau revoir, we'd like to encourage you to check out our list of event venues in Paris for a location that's worthy of your event.
And finally, here's one last top tip: capture timeless shots of all the hard work you've put into hosting a stellar business event in Paris by hiring one of the top photographers in the city.
Good Luck!
For content inquiries, contact pr@eventflare.io
Join the Club
Get access to the event industry's inside scoop