5 Cool Screening Rooms in Berlin
by DahianaGutierrez,  22 June 2023
by Dahiana Gutierrez, 22 June 2023
Hello, hello! We heard through the grapevine that you're looking for cool screening rooms in Berlin and we're here to share some of our expert advice with you.
But before we begin, we wanted to congratulate you on choosing an amazing city to host your screening. Berlin is a city that's renowned for its eclectic blend of art, culture, and innovation, and the screening rooms here are no exception.
That's not all though! The city is also on the cutting edge of technology so rest assured that when you host a private screening in Berlin, your venue will be equipped with state-of-the-art audiovisual setups to truly elevate your event experience.
Sounds amazing, doesn't it? Well, let's not keep you waiting. Here's presenting some of the coolest screening rooms in Berlin.
An Unusual and Innovative Screening Room for Hire in Berlin
We're starting our list of cool screening venues in Berlin with something completely out-of-the-ordinary. Here's an unusual and innovative screening venue that's right on the beach!
Picture this: a massive tent set up on the sandy shores, where the sound of waves, gentle sea breeze, and the touch of sand beneath your attendee's feet create a unique holiday-like atmosphere for your screening event.
But it's not all a vacation mood at this venue. The venue also comes fully prepared to handle any technical requirements you might have with screens, projectors, speakers, microphones, furniture, and a high-speed WiFi connection. And as for capacity, this venue can easily accommodate up to 320 guests in a theatre setup.
A Historical Screening Venue in Berlin with Impressive Architecture
Are you looking for a private cinema in Berlin that's both spacious and awe-inspiring? Well, your search ends with this event venue. This historical screening venue with impressive architecture is located right on the banks of the beautiful Spree River in Berlin.
But it's not just its location that's pretty! The interiors here are also pretty captivating, with soaring double-height ceilings, sweeping arched windows, and the charm of exposed brick walls that give an industrial chic vibe.
This venue was once a machinery hall and that's pretty apparent with the showstopper of this space- an original massive crane bridge that gives a unique edge to the decor.
Now, the venue may be historic, but its amenities certainly aren't! It comes fully equipped with high-tech sound equipment, a projector, an excellent WiFi connection, drinking water, and furniture. Parking is also available at the venue.
Capacity-wise, this space can comfortably host up to 450 attendees in a theatre setup.
A Humongous Private Cinema in Berlin
Next up, we've got a private screening room for hire in Berlin that can host a large crowd. This humongous private cinema is located just a quick 2-minute stroll from the Landsberger All S-Bahn station and is within easy reach of Alexanderplatz Square.
The highlight of this event venue is definitely its generous capacity and versatile layout but we do have to give bonus points for its ambience as well. The venue has lovely lighting, glossy flooring, and sturdy furniture to help your attendees relax and enjoy your screening.
We've already mentioned that this venue has a large capacity but did you know you can host up to 1000 attendees here? That's a pretty huge number! But that's not all, you're covered with amenities here as well. The venue gives you access to a stage, lighting equipment, excellent sound equipment, a projector, a screen, furniture, and a reliable WiFi connection.
A Vintage 1920s Private Screening Room for Hire in Berlin
Now, if you're looking for a really cool room for a private screening in Berlin, you'll love this one. This vintage event venue was built in the 1920s and is just a quick drive away from the Prenzlauer Allee travel terminals in Berlin.
The interiors here will take your attendees back in time with concrete flooring, high ceilings, rustic walls, and some antique-style wooden furniture that adds a touch of nostalgia.
The venue can easily accommodate up to 200 attendees in a theatre setup, and you can set up your screening on the retro stage at the venue to really kick things up a notch. As for amenities, the venue provides brilliant sound equipment, drinking water, catering services, and a high-speed WiFi connection. If you need to hire any extra equipment, our local experts are always at your service.
Pro-tip: Speaking of cool, here are some cool areas in Berlin to host your event.
Host a Private Screening in Berlin Overlooking the Beach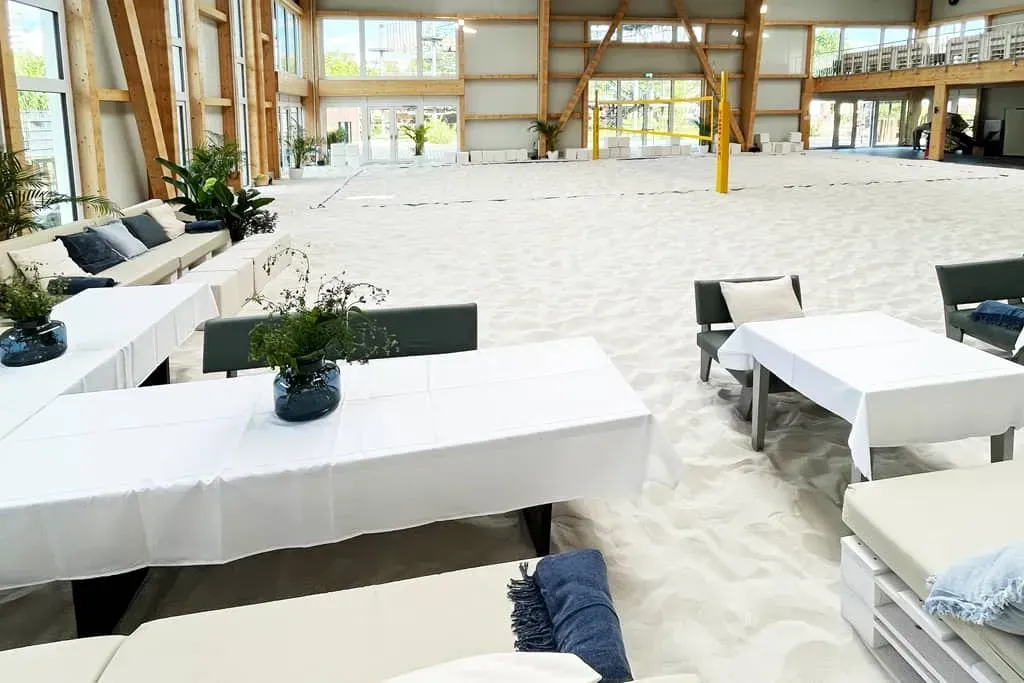 We began our list of cool screening rooms in Berlin with an event venue on the beach and we're wrapping up with another seaside venue. This mesmerising venue overlooking the beach promises you a magical event experience complete with the soothing sound of the sea breeze and the warmth of the sand beneath your feet.
And, if that promise wasn't calming enough, wait till we tell you about the colour palette of this event venue. Everything here, from the furniture to the decor follows a soothing colour scheme of blues, sand, and crisp white accents which all add to the peaceful atmosphere.
The amenities don't disappoint either. This event venue gives you access to top-notch sound equipment, a projector, a good internet connection, comfortable furniture, and drinking water. If your attendees are driving to the event, you'll be happy to know there's ample parking space available here.
Finally, let's talk about capacity. This event venue can easily accommodate up to 250 attendees in a theatre setup making it ideal for a mid-sized crowd.
Wrapping Up
And that's a wrap for cool screening rooms in Berlin. We hope you've discovered some excellent venues that can help you provide an unforgettable experience for your attendees.
Of course, we can't forget how much the backdrop of Berlin itself can add to the overall event experience in the city. Berlin is a city that's buzzing with creativity and excitement and to ensure that you and your guests get the full experience, we recommend staying at one of these excellent hotels in Berlin for a work trip.
We've also got a ton of other insider information on Berlin to make your event a grand success, and we hope you'll take advantage of it. And, if there are more venues you want or even any event planning advice, check out Eventflare.

Until next time, lights, camera, Berlin!

For content inquiries, contact pr@eventflare.io
Join the Club
Get access to the event industry's inside scoop