5 Unique Panel Discussion Venues in Lisbon
by HarryPrince,  12 January 2022
by Harry Prince, 12 January 2022
As we're all aware, presentation is everything. Yes, you don't need a unique panel discussion venue in Lisbon. But the best things in life tend to be things you don't need.
The location not only sets the tone of your panel discussion in Lisbon, but it reflects on your brand.
Thankfully you're in the right place because exciting corporate event spaces is our thing. Here we've collated a guide to our favourite panel discussion spaces in Lisbon.
There's something for everyone, so get scrolling and enjoy. Plus, we've got some bonus expert advice in the conclusion for you too!
1. Colourful and Avant-Garde Room for a Panel Discussion in Lisbon
Kicking us off, we have this colourful and avant-garde room for a panel discussion for you. With subtle art installations and a style of its own, your guest is bound to be enchanted.
Its stand out feature is the synthetic grass, giving it a pastoral and fantastical quality. The walls and ceiling are in a smooth black, creating a great contrast. What's more, it has a spacious breakout area and lots of natural light coming in from the tall windows.
It has a spacious 155m2, allowing for you to 100 guests. Plus, it had every amenity you could need for a panel discussion including screens, projectors, WiFi, Sound equipment, and more.
2. Unconventional and Creative Panel Discussion Space in Lisbon
Up next, we have this unconventional and creative panel discussion space in Lisbon.
The loft is where you'll find this gorgeous panel discussion space, with a curious and charming bright yellow floor. There are bright white roof trusses and walls, exotic plant life, retro seating, and a beautiful arching glass window.
The fun doesn't end there either. There's a translucent blue fishbowl meeting room. Plus, there's a bar and cafe area for breakout sessions.
Capacity wise, you'll be able to accommodate up to 120 people here. What's more, you'll have a state-of-the-art sound system, a mixing desk, a PA system, TV screens, mics, and high-speed WiFi.
3. Sustainable Panel Discussion Venue in Lisbon With a Vibrant Atmosphere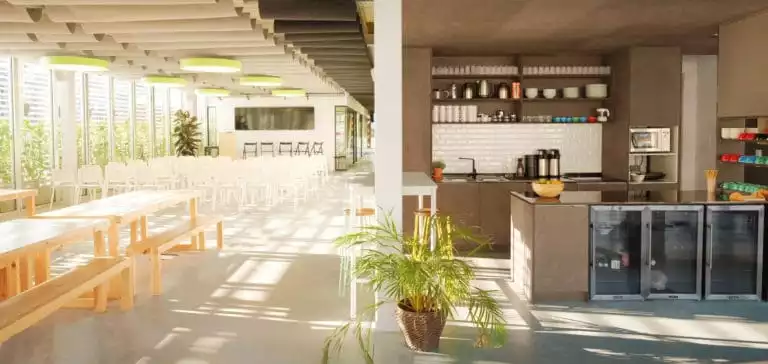 If eco-friendliness is crucial to you, then you'll love this sustainable panel discussion venue in Lisbon. It has a vibrant design to make your guests feel invigorated.
You'll find it in Santa Apolónia, with an auditorium bursting with natural light. It's filled with pristine and minimal furniture and lots of charming plant life. And perhaps best of all, there's a balcony space with views of the River Tagus.
Plus, there's a private bar, a marvellous sustainable catering service, projectors, flipcharts, sound equipment, TV screens, whiteboards, and high-speed WiFi. And finally, over its 80m2 you'll be able to accommodate up to 80 people.
4. Eclectic and Quirky Panel Discussion Space in Lisbon
How about this eclectic and quirky panel discussion space in Lisbon? If you like venues with a colourful and creative space, then this is the one for you.
This curious venue is usually home to entrepreneurs, creatives, and artists, but it could be the perfect place for your panel discussion in Lisbon.
There's a lovely mezzanine for a unique view of the discussion, to lead brainstorming sessions or well-earned breaks. Your guests will love the burst of colour from the versatile and retro furniture arrangements. And of course, who couldn't help but notice the stunning stone set windows.
And finally, it has a total floor space of 230m2, allowing for a total capacity of 65 people.
5. Inspiring and Quirky Location For a Panel Discussion in Lisbon
Alas, this is the last panel discussion venue in Lisbon. But don't fret, this last one is a beauty. It's a centrally located and inspiring and quirky location for events.
The main panel discussion space is in a bright and bold red, with concept light fixtures, large street-facing windows, and exotic plant life. The large open plan breakout room is full of art installations and large lounging furniture.
It has up to 75m2 of space to work with, allowing for up to 90 guests. And of course, it has all the AV material necessary for hosting all manner of corporate events.
Wrapping up
So there you have it, our favourite unique panel discussion venues in Lisbon. And if you want to see more, you might like to check out the rest of our conference rooms in Lisbon.
And as we said in the intro, here's one more bit of expert advice for you. It's our guide to the best restaurants in Lisbon for a business lunch. If taking your guests here won't impress your guests, nothing will!
Join the Club
Get access to the event industry's inside scoop