Advice for Event Planners on Hosting a Business Event in Berlin
by Akshayaa RaniM,  26 August 2023
by Akshayaa Rani M, 26 August 2023
Hello, dear event planners. Word on the street is you're planning to host a business event in Berlin. Well, we know that even the most seasoned event planner could do with a helping hand, and we're here to do just that.
Welcome to our helpful little guide that's full of great advice on hosting a stellar business event in Berlin. From catering tips to helpful advice on stage design and decor to more, we've covered all the nitty-gritty details so that everything goes right for you on D-day.
Pro-tip: We recommend getting to Berlin early to ensure that your plan is in place before your event. Here are some hotels in Berlin that are good to stay in.
Now, without further ado, let's start exploring these top tips for hosting a successful event in Berlin.
1. Let's Start With Catering Tips for Business Events in Berlin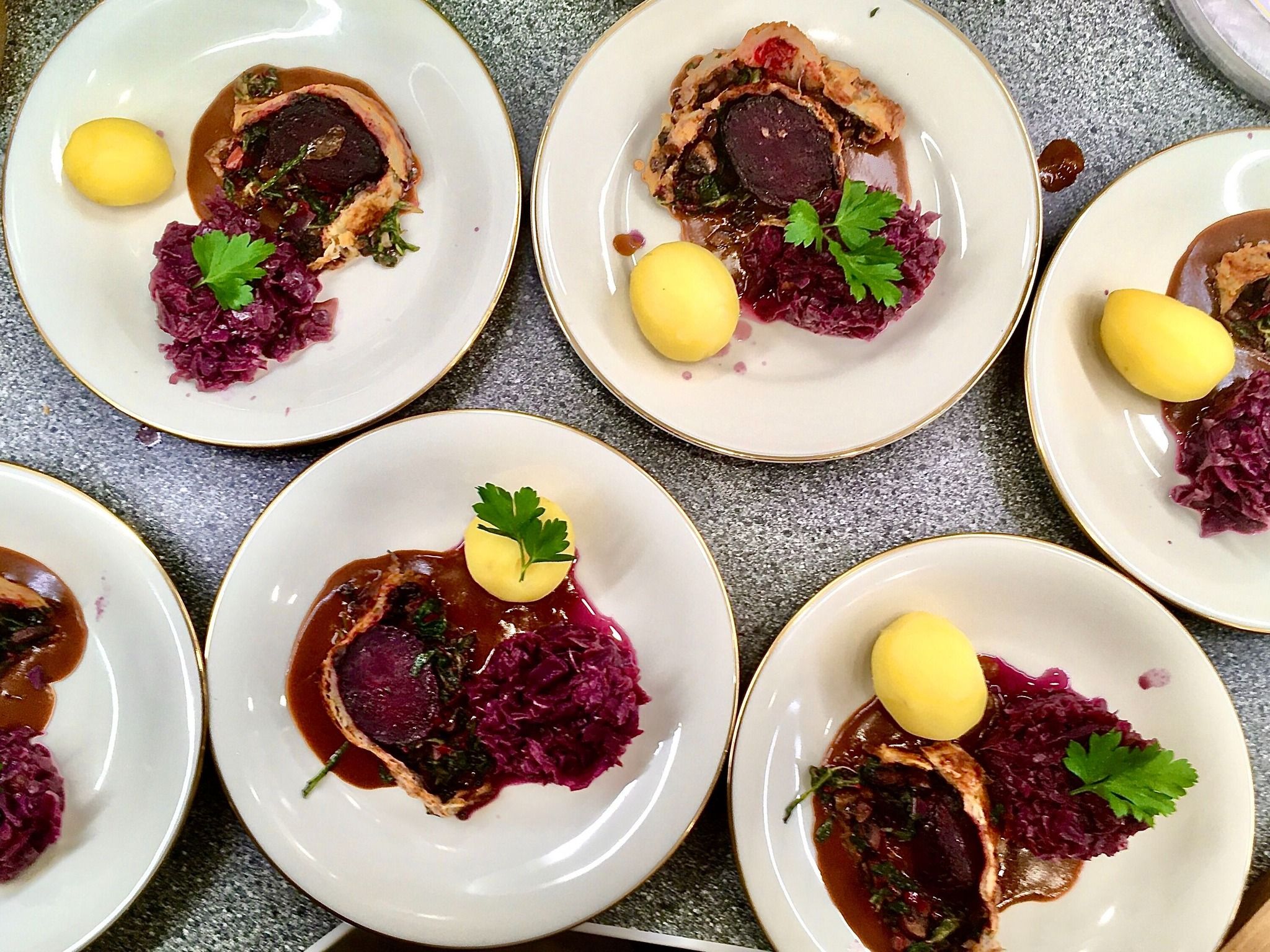 We'll begin our tips with some catering advice for business events in Berlin. We're sure you know that food is an integral part of any event, so these tips are here to ensure that your event attendees will be raving about your food well after the last business presentation is over!
Add a local touch: The German capital is a melting pot of cultures and flavours and your event catering menu should certainly reflect that. Your event attendees will love the taste of traditional German dishes like schnitzel, bratwurst, and pretzels (which also make great appetisers!).
Of course, you can also add some international options for variety. Berlin is famous for its international cuisine options and dishes like the Turkish doner kebabs or Vietnamese pho can add a unique twist to your catering.
Don't forget the vegetarians and vegans: Yes, Berlin is famous for its bratwurst and meat but don't forget to consider that your event attendees could have different dietary requirements. Luckily, Berlin is quite progressive when it comes to dietary preferences.
You'll find several vegan event caterers that offer some delicious and creative plant-based burgers, vibrant salad spreads, and more to ensure that everyone gets to indulge in the German culinary experience.
Include coffee breaks and snacks: Business events can be an interactive and engaging experience but that doesn't mean your event attendees will be alert for the entire event.Keep your attendees energized by offering coffee, tea, and snack breaks between sessions.
To add the Berlin touch to your snack break, you can include local snacks like Berliner Pfannkuchen (jelly-filled doughnuts) or Brezeln (pretzels).
Say cheers with craft beers and local drinks: Berlin has a thriving craft beer scene and is famous for its beer gardens. Consider having a selection of local craft beers and German wines available for your attendees to enjoy. It's a great way to celebrate the city's culture and allow your guests to savour the local brews.
Collect feedback to improve future events: Berlin is thriving as a hub for business events so we're pretty sure this may not be the last time you host a business event in Berlin. Prep for future events by collecting catering feedback from your event attendees and using their input to provide a better catering experience at your next event.
2. Stage Design and Decor Advice for Business Events in Berlin
Next up, let's explore some event planning advice in Berlin for stage design and decor. We aim to help you create a visually stunning and engaging atmosphere for your business event in Berlin and these tips will help you get there.
Get the best of both worlds with a fusion of modern and historical charm: Berlin is a city that beautifully brings together history and innovation and your stage design for a business event in Berlin should reflect that.
Try to incorporate modern elements like sleek LED screens and interactive displays while using historical landmarks and iconic architecture as stage backdrops to bring together the best of both worlds.
Bring out the industrial chic vibe:Berlin's industrial aesthetics are famous worldwide. Embrace this by using raw materials like exposed brick, metal accents, and reclaimed wood in your stage design. Industrial chic creates a contemporary yet edgy vibe that resonates well with the city's atmosphere.
Get tech-savvy with interactive tech:It's no secret that Berlin is light years ahead in tech so any business event in Berlin should definitely be tech-forward. Use interactive tech elements such as touchscreens, VR experiences, or live social media displays in your stage design.
This not only encourages engagement among your event attendees but also creates an unforgettable, hands-on experience.
Have a flexible setup:Adaptability is the key to any successful business event and Berlin is no different.Opt for modular setups that can be easily adjusted to accommodate various event formats, from presentations to panel discussions and workshops.
Impress Berliners by going green:When it comes to sustainability, Berliners are extremely environmentally conscious. Your business event in Berlin will impress the local attendees if you use sustainable decor elements like potted plants, eco-friendly materials, and LED lighting to reduce your event's carbon footprint.
3. Entertainment Ideas to Make Your Event in Berlin Memorable
When you host a Berlin event, stage design and decor are only one part of leaving a lasting impression. You also need to include some excellent entertainment options to ensure that your event attendees stay engaged throughout your event.
We've already mentioned that Berlin is a tech-savvy city, so that opens up the doors to several cool entertainment experiences at your business event in Berlin.
Here are some ideas on what you can include.
Gaming lounges: Dedicate a space within your event venue in Berlin to gaming lounges. Let your event attendees recharge with a variety of games, from classic board games to interactive video games that will help them bond and network with each other.
Live streaming and social media walls:Stay updated in the digital space with a live stream of the event activities on large screens within the venue. This will help your event attendees plan their schedule (especially if it's at a large venue) and ensure that no one misses out on anything.
Another idea is to display a real-time social media wall that aggregates event-related posts and interactions.
Interactive installations: Create physical or digital interactive installations that will encourage event attendees at your business event in Berlin to explore and engage. These could include touch-sensitive walls, light displays, or even interactive mirrors.
Augmented reality (AR) experiences:Look into the future of tech by using AR technology to offer interactive experiences to your event attendees. They can use their smartphones or AR glasses to view augmented content that complements your business event's theme.
Virtual reality (VR) stations:Another cool way to integrate tech into your business event in Berlin is to set up VR stations at the event venue. This will give your event attendees a chance to immerse themselves in virtual environments related to your event or Berlin's landmarks. It's a unique way to offer an interactive and futuristic experience.
Pro-tip: Make sure you hire an excellent videographer in Berlin to capture all the fun at your event. Not only will this be a great memory, but it will also help create marketing content in the future.
4. After-Work Ideas for When You Host Berlin Events
Now that you've hosted a successful business event in Berlin, you might be thinking what next? If you really want to make your event memorable for your event attendees, don't say goodbye right after your event is over. Instead, take the liberty to organise a few after-work events to help take networking and bonding a notch further.
Here are some cool ideas for after-work events in Berlin.
Organise a beer festival: You can't come to Berlin and not sample the local beers. A good way to help your event attendees loosen up and network with each other is by organising a casual gathering at one of Berlin's famous Biergarten.
These places are quintessentially German and will give your attendees a chance to unwind and enjoy a variety of German beers and traditional snacks in a relaxed setting.
If the beer doesn't quite catch your fancy, but you'd still like to unwind with drinks, check out these chilled-out venues for happy hour in Berlin.
Take an art gallery tour: If beer is not quite your scene, explore the artistic side of Berlin by going art gallery hopping with your event attendees. Explore Berlin's renowned art scene with tours of the city's contemporary art galleries and studios.
This is a great opportunity to not only appreciate the local talent but also spark creative conversations.
Sail along with a river cruise: There are several cool event venues along the Spree River and if you're lucky enough to host your business event in Berlin at one of these event venues, you should consider a relaxing river cruise. Attendees can enjoy picturesque views of the city's landmarks while socialising and enjoying onboard refreshments.
Go on a historical walking tour:Explore Berlin's history with a guided walking tour that covers iconic sites like the Brandenburg Gate, Berlin Wall remnants, and Checkpoint Charlie. Trust us, your event attendees will enjoy this fun history lesson and will network over their thoughts about the past.
Give back with a charity or volunteering event: Berlin is a city that constantly strives to uplift its community and your event attendees can join the gang and do some good that will make them feel good. We recommend bringing your event attendees together for a charity or volunteering event.
It's a meaningful way to connect with colleagues and contribute positively to the city.
5. Event Advice Berlin: Learn the Local Culture
When you host a Berlin event, getting familiar with the local culture will help take you far, both in planning your event and in navigating cultural norms with your local event attendees. While German culture does not differ too much from other European countries, here are a few things you can keep in mind while planning your business event in Berlin.
Tipping guidelines in Berlin:The tipping culture in Berlin is not as prevalent as it is in North America but tips are often widely encouraged and appreciated. It's common to round up the bill or leave a small tip of around 5-10% if service is not already included.
It's not common to leave a large tip, so unless you are really, really satisfied with the service, this can be avoided.
Timing and punctuality rules: Berliners are sticklers for time, and punctuality is greatly valued here. Being late is often viewed as a sign of disrespect, so ensure that your event runs on time and that you're not late for any business meetings you have during your time in Berlin.
Body language and gestures: You'll be surprised to learn that the 'thumbs-up' gesture is not seen as a positive symbol in Germany (unlike the rest of the world). In fact, it can often be interpreted negatively so it's best to avoid this in a professional setting.
Similarly, pointing with the index finger is considered impolite or aggressive. Instead, use an open hand or gesture with your whole hand. Germans also tend to value personal space and avoid being loud in public spaces, so make sure you maintain decorum when you're here.
Gift-giving rules: If gift-giving is appropriate for your event, provide guidelines on suitable gifts. In Berlin, gifts are often opened immediately upon receipt, and it's customary to bring a small gift when invited to someone's home
6. Bonus Event Planning Advice Berlin: Marketing Ideas for Your Event
Before you go, we've got one last piece of event-planning advice for Berlin. We know you've worked really hard on planning a stellar event and we want to be sure that you attract a large crowd.
Here are some quick tips to elevate the marketing game for your business event in Berlin.
Create a localised landing page:Design a dedicated landing page for your event with information in both English and German. Highlight how the event ties into Berlin's culture and what attendees can expect.
Collaborate with local favourites for partnerships: Partner with local businesses, event venues, or cultural organisations to co-promote the event. Cross-promotion can help expand your reach within the Berlin community.
Ensure you localise all marketing collaterals:English is not the first language for many Germans and most of them are proud of their native tongue. Translate event materials, website content, and marketing collaterals into German. This makes it more accessible to local attendees and demonstrates your commitment to engaging with the community.
Highlight Berlin's Trends: Research and incorporate current Berlin trends, whether it's fashion, design, or technology, into your marketing to show that your event is in tune with the city's pulse.
Wrapping Up
We hope you've been taking notes because we're now at the event of our top tips for planning a business event in Berlin. We have armed you with the knowledge you need. Now go all out and make your event a memorable one!
Don't forget, that the first step to a great business event is the venue, so before you do anything else, check out stunning event venues in Berlin. You can also look at the best areas in Berlin for hosting events to find a venue that matches your needs.
Have fun!
For content inquiries, contact pr@eventflare.io
Join the Club
Get access to the event industry's inside scoop