Where to Host a Presentation in Lisbon
by HarryPrince,  19 January 2022
by Harry Prince, 19 January 2022
So you want to know where to host a presentation in Lisbon? Well, you've come to the right place. Because hunting down the best corporate event venues is our thing.
The venue you choose for your presentation says a lot about your company, your intent, and how important you regard your presentation topic.
This article has a little something for everyone. Whatever kind of presentation venue you're after in Lisbon, we've got a location below to satisfy your needs.
From the industrial to the contemporary, the intimate to the spacious, you name it, we've got it. Now get scrolling!
1. Sustainable Presentation Venue For Hire in Lisbon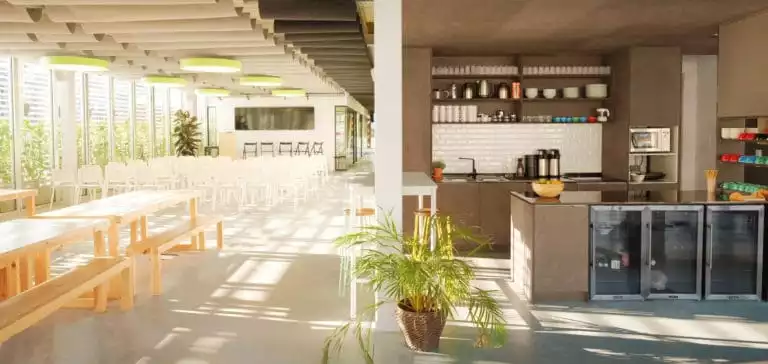 So without further ado, let's get stuck into our first presentation venue for hire in Lisbon. It's a sustainable coworking space with a vibrant atmosphere.
You'll find it in the fantastic area of Santa Apolónia. The venue bursts with natural light, tropical plants, and bright, minimal furniture. Plus, there's a private bar, a lounge area, and sustainable catering options,
Moreover, your presentation will have the benefit of flipcharts, projectors, TV screens, whiteboards, mics, and excellent WiFi. And finally, you'll have a theatre capacity of 80 people with a floor space of 80m2.
2. Colourful and Avant-Garde Presentation Room in Lisbon
Up next, we have this colourful and avant-garde presentation room in Lisbon.
It's a unique location, with imitation grass flooring, bright furniture, trendy blacked out walls and ceilings, tall windows for lots of natural light, and loads of contemporary art installations.
There's 155m2, an open lounge area, and a beautiful outdoor area. In short, there's plenty of space for roaming breakout sessions.
Plus, it's chock-full of excellent services such as catering, wheelchair access, free parking, and even more amenities such as sound equipment, flipcharts, projectors, TV screens, and high-speed WiFi.
3. Eclectic and Quirky Presentation Venue in Lisbon
If you're looking for something that has a creative collective funky coffee shop vibe, then you might like our next presentation venue in Lisbon.
It's an eclectic and quirky space for events that is usually home to artists and entrepreneurs.
It has a fabulous mishmash collection of colourful furniture, quirky fixtures, tall windows encased by old stone, and a sizeable industrial mezzanine. This interior second floor is ideal for breakout sessions, mini-events, or as a viewing gallery.
And finally, over its 230m2 you'll be able to accommodate up to 65 people for your presentation in Lisbon.
4. Unconventional and Creative Presentation Room in Lisbon
And now for something really unconventional. This creative presentation room is in Lisbon.
The location is curious too, adjoined to a working factory. It has three spaces. Starting with a translucent blue fishbowl meeting room. The second space is the larger presentation space. A bright white and yellow loft modelled in a nostalgic style with refined contemporary materials. Then there's the bar and cafe area with its open lounge and library motif.
Amenity wise you'll have a state-of-the-art sound system, a mixing desk, a PA system, high-speed WiFi, great catering options, TV screens and mics. And finally, capacity-wise, you'll be able to accommodate up to 120 guests for your presentation here.
5. Sustainable Presentation Venue For Hire in Lisbon With Vibrant Atmosphere
And just like that, we're already at our final presentation venue for hire in Lisbon. So here you have it, a sustainable boardroom with tons of natural light.
You'll find it directly on the riverside located in Santa Apolónia, with a lovely balcony for well-earned breaks and superb views.
It's got a modern, uncluttered style with a bright colour motif. Plus, it has a TV with Chrome Cast, motion sensors, a camera, and a mic, as well as a whiteboard, flipchart, a printer, and excellent WiFi.
And finally, you'll be able to accommodate up to 12 people for your presentations here.
Wrapping up
So, in conclusion, you know where to find some glorious presentation venues in Lisbon. And, of course, that's just a small selection of what we have. If you want to see more, why not check out the great choice of conference rooms in Lisbon we have.
And while you're in town, why not make the most of your time by booking one of the 7 best team building activities in Lisbon.
Join the Club
Get access to the event industry's inside scoop